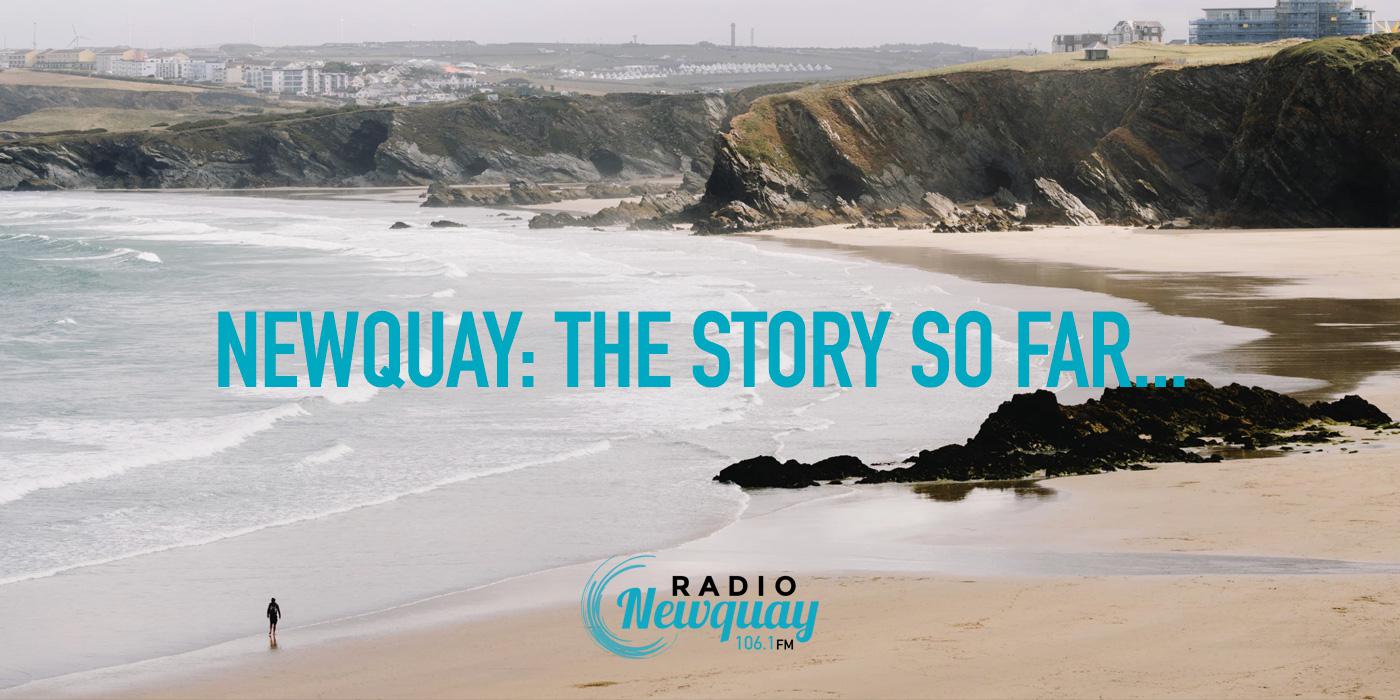 We've been inundated with messages and phone calls asking to hear the poem which launched Radio Newquay - so here it is!
We wanted to do something with a difference for our launch. Lots of other radio stations will just have a countdown, followed by lots of cheers, clapping and "whoos" of a rent-a-crowd.
But we wanted to do something that set out our stall. A celebration of the town that we're proud to call home - and we hope in turn, will become proud of us.
We first came up with the idea around mid-August - and asked local poet Lynn Bartrip-Kay, a fellow Newquay afficionado to pen a tribute to our town. We didn't give her long, but goodness she really came up with the goods.
Lynn - thank you for creating something we can all be proud of.
The story so far...
Originally called Towan Blystra our fishing village had a change of name,
A New Quay was built at the harbour and Newquay is what we became.
Our rich diverse history revolves round the sea and the magic that surrounds us is totally free.
Sitting on the Barrowfields, an ancient burial ground, I can see the Huers Hut standing proudly above the town,
Just for a second I can hear the Huer roar, Hevva, Hevva Pilchards, come and bring them to the shore.
I opened my eyes and saw the Newquay Gig rowing across the bay and realised that the past is still with us today.
The Gig was built for India but was too big for the transport boat, so many years later, having been lovingly restored, it's still here, still ours, afloat.
There's a mouthwatering smell wafting up from the harbour, is that music and laughter I hear?
It must be the annual Fish Festival, always getting bigger and better every year
Our Lifeboat day is a major event raising money and awareness too,
advice on how to stay safe in our sea and support our life saving crew.
The Joe Way Paddle is a day of fun, remembering a brave little man,
there's surf boards, long boards and body boards all racing as fast as they can,
raising money for many local charities, through entry fees, raffles and stalls,
definitely one for your diary, a great community event for us all.
So much goes on in our wonderful town, we must include our sportsmen and women,
and the hundreds of young people who take part every week from football, to rugby to swimming.
The Peppermints play football at Mount Wise, Godolphin Way is the G Army's team ground.
The Sports Centre is where the Hornets and Cormorants, Road Runners and Cricketers can be found.
Tennis is played at The Heron Centre, close to our lovely, family Zoo and if you fancy a round of Golf on our course, pause, to take in the breathtaking view.
We must not forget all our surfers, though we all know where they will be - on any of our seven magical beaches, riding the waves for free.
We'll just take some time out for a moment to think of famous names we've found,
three spring to mind and I think you will find that we're proud of their link to our town.
Sir William Golding was born at 47 Mount Wise, the home of his Cornish Gran,
he was a Booker Prize Winner and SO very much more, please google this amazing man.
James Morrison, although born in Rugby, came to the Newquay area to find his way,
to follow his dream to pursue music and here found the inspiration to play.
Although now a top recording artist, please google his glittering career,
he still finds the time to sit down and sign a guitar to raffle in our Paddle each year.
Last, but not least there's Phillip Schofield, not born, but grew up in our town,
attending Trenance and Tretherras schools but at 17 left, London bound.
And the rest, as they say is history, far too many credits to note,
Maybe google him too, you'll be surprised that you do, we can't do him justice in just this one quote.
He still visits often to see family and friends, making Newquay a favourite destination,
He also supports some of the community things that we do including the Huers Hut restoration.
Now back to our town and the community here, people by choice or by birth, have made this their home - why wouldn't they? It's our piece of paradise on Earth.
Newquay and Towan Blystra Lions, the Rotarians, Soul Food and DISC, all give their time for free,
Newquay in Bloom give our town Va Va Voom making it special for you and for me.
There's many individuals working for the love of our town, JG is just one, a born and bred son, inspiring, uniting proving what can be done.
There's so much more to tell you, there's so much more to say, about the town we all call home and why we'll never move away.
We now live under a rainbow, we've found our pot of Gold, we stand side by side with Cornwall Pride, our future's inclusive we're breaking the mould.
You really have to be here to experience the magic we feel, it can't be explained it only translates when it touches you for real.
There's no other place like Newquay, we're a jewel in Cornwall's crown, no matter what others say, we're the best, here to stay.
Newquay, OUR home, OUR town.